House
21 Dec 2009 10:19 pm
With the winter months upon us, we're missing the activity we had all summer long.  Last year Aleen kept mentioning that we should get a treadmill but we were hesitant thinking that we would not get good enough use out of it.
This year though, Aleen was really adamant and so we saw in some flyers some sales on different treadmills.  Canadian Tire had a really nice one, a Horizon 9.1, with a 2.5 hp motor and a lifetime warranty on the frame and motor.  It was reduced nearly 40% in price, so after doing some research and checking it out in the store, we finally decided to buy it.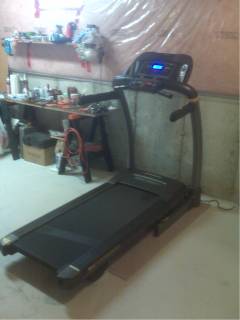 They delivered it to our house and also built it and installed it.  We're probably going to build a little gym in one of the rooms downstairs, so this works out well.  So far so good.